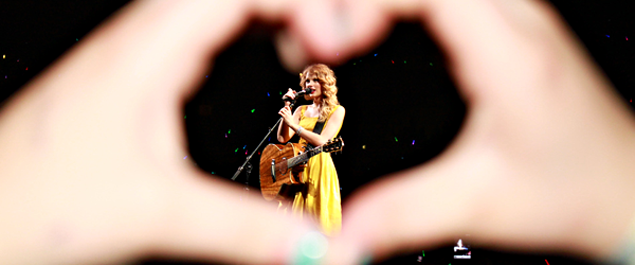 O site
CMT News
fez um top 10 de músicas da Taylor, que falam sobre um amor que deu certo, e que ela poderia cantar para seu novo namorado, Conor Kennedy, ou até mesmo inspirá-la a escrever novas.
Depois de ver vídeo de Taylor Swift para "We Are Never Ever Getting Back Together", é seguro dizer que este não é sobre seu novo namorado, Conor Kennedy. Porque essa música é sobre um rompimento ruim, é provável que envolva um homem alto, moreno e bonito de Hollywood. Mas agora, parece que Swift está em um lugar muito mais feliz. Então, se ela fosse cantar algumas músicas para Conor Kennedy, sobre o quanto ela está feliz por estar com ele, tudo o que ela tem a fazer é aprofundar seu catálogo de músicas para encontrar os trechos que atendem mais ao amor certo do que o amor errado. Tais como:

1. "He's got a one-hand feel on the steering wheel, the other on my heart."
2. "I don't try to hide my tears, my secrets or my deepest fears, through it all nobody gets me like you do."
3. "Romeo, take me somewhere we can be alone/I'll be waiting, all that's left to do is run."
4. "I see sparks fly whenever you smile."
5. "I don't know how it gets better than this."
6. "This night is flawless, don't you let it go/I'm wonderstuck, dancing around all alone."
7. "Long live all the mountains we moved, I had the time of my life fighting dragons with you."
8. "I can't help it if you look like an angel."
9. "You're dancing 'round your room when the night ends."
10. "This love is ours."
O que você achou dos trechos escolhidos? Qual música ela poderia cantar para o Conor? Comente abaixo.