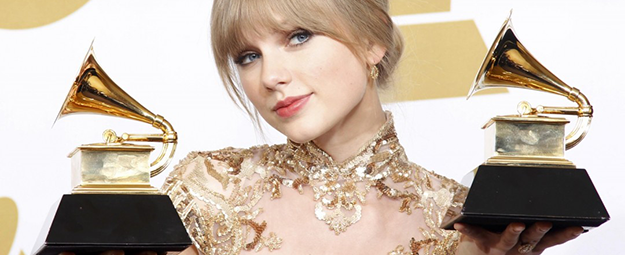 Acontece neste domingo (26) em Los Angeles a maior premiação da indústria musical, o GRAMMY Awards. Como sabemos, Taylor está indicada em quatro categorias, sendo elas: Best Country Song por Begin Again; Best Country Duo/Group Performance por Highway Don't Care; Best Country Album e a categoria mais importante da noite, Album of The Year, por RED. A cantora está com presença confirmada, onde além de concorrer pelas quatro categorias também irá se apresentar.

Confira abaixo todos os indicados nas categorias em que Taylor está concorrendo:
ALBUM OF THE YEAR
The Blessed Unrest – Sara Bareilles
Random Access Memories – Daft Punk
Good Kid, Bad City – Kendrick Lamar
The Heist – Macklemore & Ryan Lewis
Red – Taylor Swift
BEST COUNTRY DUO/GROUP PERFORMANCE
From This Valley – The Civil Wars
Don't Rush – Kelly Clarkson, Vince Gill
Your Side Of The Bed – Little Big Town
Highway Don't Care – Tim McGraw, Taylor Swift & Keith Urban
You Can't Make Old Friends – Kenny Rogers, Dolly Parton
BEST COUNTRY SONG
Begin Again – Taylor Swift (Taylor Swift)
I Drive Your Truck – Jessi Alexander, Connie Harrington & Jimmy Yeary (Lee Brice)
Mama's Broken Heart – Brandy Clark, Shane McAnally & Kacey Musgraves (Miranda Lambert)
Merry Go 'Round – Shane McAnally, Kacey Musgraves & Josh Osborne (Kacey Musgraves)
Mine Would Be You – Jessi Alexander, Connie Harrington & Deric Ruttan (Blake Shelton)
BEST COUNTRY ALBUM
Night Train – Jason Aldean
Two Lanes Of Freedom – Tim McGraw
Same Trailer Different Park – Kacey Musgraves
Based On A True Story – Blake Shelton
Red – Taylor Swift
Pre Telecast

Algumas das categorias serão apresentadas no evento não televisionado da premiação, que terá início às 19h (horário de Brasília) e poderá ser acompanhado ao vivo clicando aqui.
Tapete Vermelho

O tapete vermelho será transmitido ao vivo pela E! Brasil a partir das 20h30 (horário de Brasília), aproveite e use a tag #RedCarpetE em seus tweets para concorrer a um kit exclusivo!  Caso deseje acompanhar online, clique nos links: Ao vivo pelo site do E! | (Player 2, Player 3, Player 4).
Premiação

A premiação oficial será transmitida ao vivo pelo canal pago TNT, às 23h (horário de Brasília). Caso não tenha acesso ao canal, temos players abaixo para a transmissão ao vivo:


Player 2 | Player 3
Além disso, não se esqueça de acompanhar nossa cobertura através do Twitter e Facebook!